Article number:
10023836
Availability:

In stock

(29)
Our GFRC Preblended Concrete Mix can be sprayed, poured, pressed, or troweled. Fibers are not preblended into our GFRC mix, so that you can select the fiber combination and load rate that suits your needs. There are also no larger aggregates in the mix, making it an ideal base to add decorative aggregates to, or to build a specific custom recipe from. The mix can be used to create many different looks; from a clean, almost machined finish to one with beautiful depth and movement.
GFRC Preblended uses all white ingredients, naturally curing to a bone white. The mix can be pigmented with any of the Buddy Rhodes Color Wheel™ color collections. The mix has all the necessary high-performance ingredients preblended, including curing polymer, such that only water and necessary reinforcement need to be added. The workability of the mix can be changed with the addition of our series of water reducers. AR Glass fibers are often used as primary reinforcement in this mix.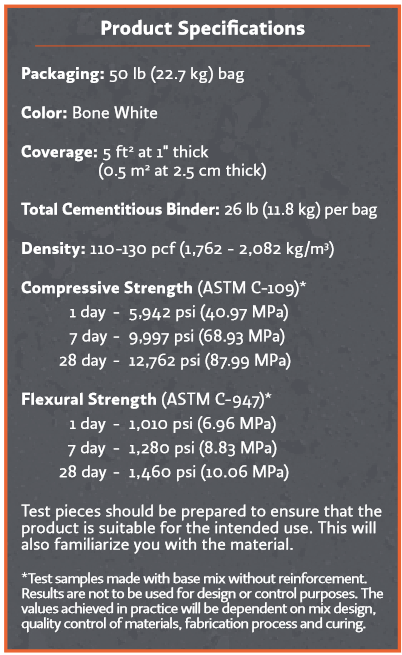 COVERAGE AND CEMENT CONTENT
This mix is typically made at 0.75" - 1" thick. This mix is often cast at ½" thick for objects like tiles, but consideration must be given in the handling and support of the piece.
Coverage: One bag covers +/- 5 ft2 at 1" thick. One bag produces +/- 30 ft2 of mist/face coat when sprayed.
Total Cementitious Binder (per 50 lb bag): 26 lb