West System Epoxy Selection Guide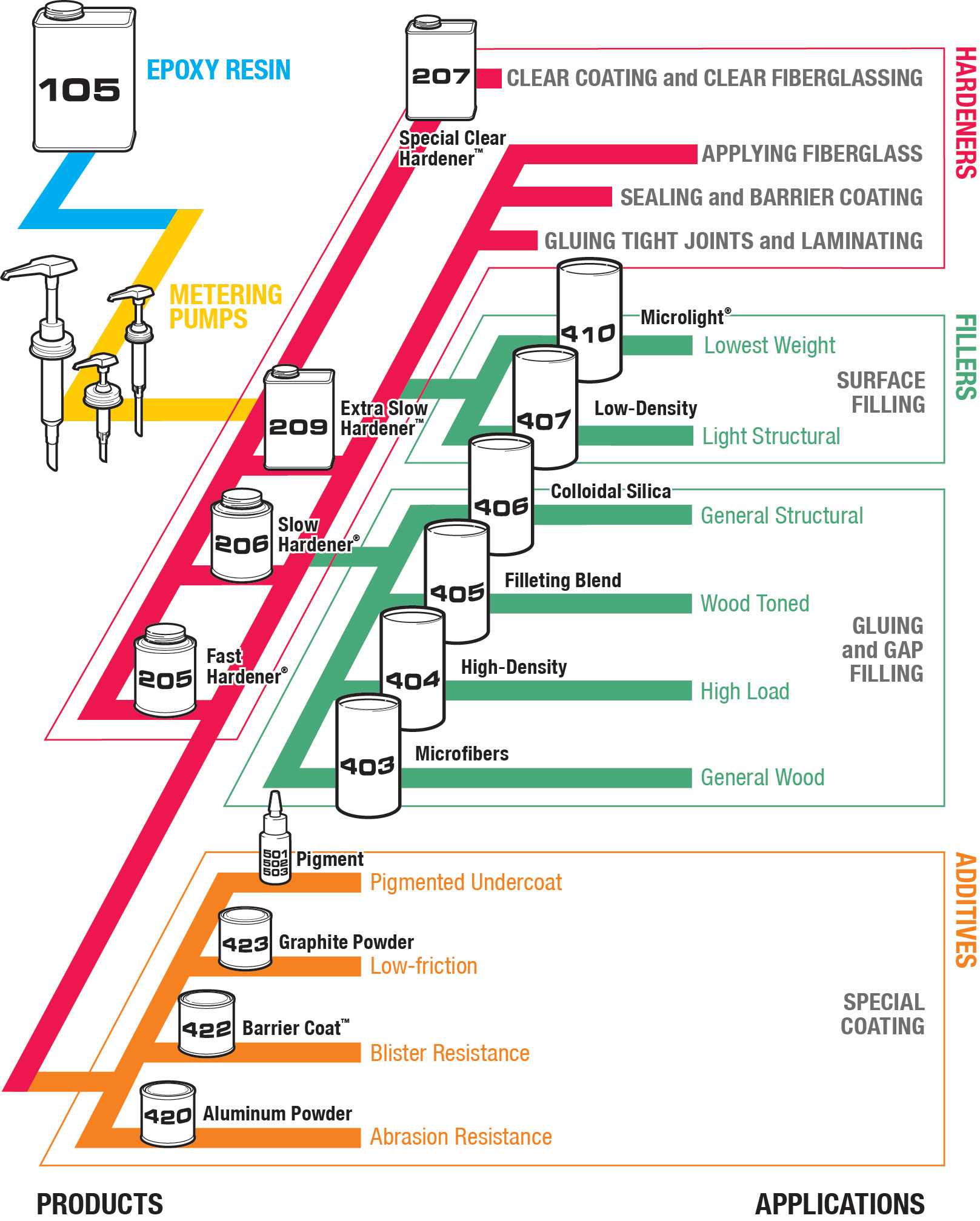 Using the Epoxy Selection Guide
1. Start with 105 Epoxy Resin, the basic ingredient of all WEST SYSTEM Epoxy compounds. You'll find it at the upper left of the Epoxy Selection Guide.
2. Select the epoxy hardener with the cure speed and recommended cure temperature to best suit your working environment. If clear coating, choose blush-free 207 Special Clear Hardener.
3. Choose a metering dispensing system. For most epoxy applications, 300 Mini Pumps are convenient, accurate and economical and contain everything you need whether you are using a 5:1 Hardener (205 Fast or 206 Slow Hardener) or a 3:1 Hardener (207 Special Clear or 209 Extra Slow).  For larger projects or long-term shop usage, you may want one of our higher capacity metering pump models. These pumps are dedicated to metering epoxy at a 3:1 or 5:1 ratio, so choose them based on which hardener you normally use.
4. For bonding or fairing operations, select a filler based on its intended purpose, handling characteristics. or cured physical properties. Fillers are categorized as adhesive (for epoxy bonding and coating operations) or fairing (for sanding and smoothing operations).
5. If needed, add one of four WEST SYSTEM additives to the epoxy to provide specific coating properties such as enhanced abrasion resistance. Pigments are also available to color the epoxy without compromising cure.
While our application tools are not featured on our Epoxy Selection Guide (in the interest of simplicity), these make handling and applying epoxy neat and convenient. Also not featured are reinforcing materials. Use these to add strength and abrasion resistance wherever your project needs it the most.